GLOBAL CTI COLLECTS TOYS FOR USMC TOYS FOR TOTS IN ANNUAL TOY DRIVE
BAKERSFIELD, Calif. – Global CTI Group, a leader in innovative business communications solutions, recently held their annual Global CTI Holiday Toy Drive at both the Bakersfield headquarters and Irvine regional office. In both offices, collection boxes were overflowing with donations from generous GCTI associates.
In a concerted effort to find a charity that operates throughout the region, the US Marine Corps Toys for Tots program was chosen for their long history of charitable work dating back to 1947 and as a way to indirectly support our nation's armed forces and children throughout our region. After pinpointing the charity, Global CTI got associates involved in this annual tradition to help bring smiles to the faces of children who otherwise wouldn't have a merry holiday.
"It helps children who have less than we do experience Christmas," said Lori Newby, a Project Manager for Global CTI, "and hopefully the happiness that comes from the gifts extends past Christmas into their lives to feel the goodness in people."
As GCTI builds upon the success of this year's Toy Drive, the company looks forward to increasing associate donations in the future and continuing this tradition into our 30th year of business and beyond.
Global CTI Group is a business communications solutions provider headquartered in Bakersfield, California with a regional office in Irvine, California, and a variety of virtual sales and engineering offices statewide.  For more information on how Global CTI can help your business, organization or district move forward, please call 1-800-366-1711 or visit us at GCTI.com.

Marketing Communications Associate Geoff Taylor
carries a box full of toys ready for USMC Toys for Tots.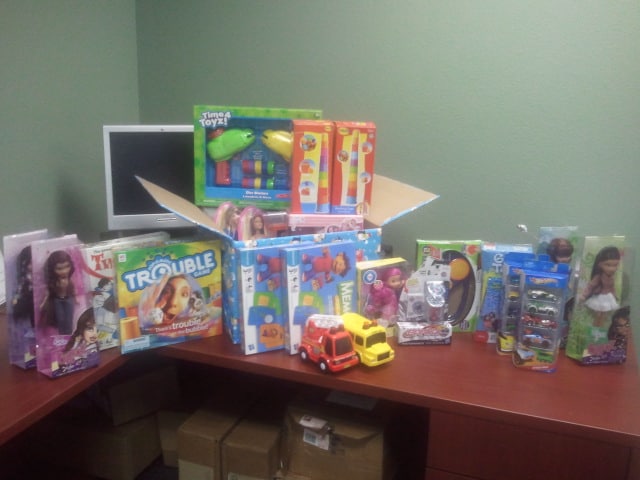 Toys collected by the Global CTI Irvine office for donation to Toys for Tots in Orange County.


Cpl. Salazar from USMC Bakersfield Reserve Center, Detachment II, Bulk Fuel Co. A,
6th Engineer Support Battalion collects a box of toys donated by Global CTI.
---
Contact:
Geoffrey Taylor, Marketing Communications Assistant
222 So. Union Ave
Bakersfield, Calif. 93307
www.GCTI.com
marketing@gcti.com
1-800-366-1711 x3736
Release Date: December 19, 2011
###